Get ready for an adventure to explore different mediums that expand the creative imagination! Our staff introduces campers to charcoal, chalk, paint, colored pencils, oil pastels, watercolors, and still life with games and exercises to help campers improve their creative and technical skills. Campers will work on projects specifically chosen for their age and skill level.
Our project themes may repeat from week-to-week. For the most rewarding experience, we recommend that a camper only spend one week each summer developing their artistic skills in Art Camp.
Details
Art concepts, techniques, and skills are introduced and taught through engaging lessons and fun games.

Please scroll to the bottom of this page to see examples of age-specific projects and read descriptions of our age-specific curricula.
Sample Day
Pointilism and Symmetry with Insect Desi
Wax Resist Water Color Gems
Swim
All lifeguards are Red Cross certified. Swim lessons are taught by staff who have received LINX Camps swim training.
If your camper is a rising 2nd grader or older, here are the ways to add swim into their LINX Camps experience:
Register for a week of Freedom Camp
Register for a week of All Star Sports Camp
Add on Extended Day with Swim Lesson
Lessons & Free Swim (4-5x per week)
No swim or water games included
No swim or water games included
No swim or water games included
Rates
2022 Rates
You won't see a better rate than you see today! As summer gets closer, each future promotion will never be quite as awesome as the one before it.
Our half-day Fun Bunch Camp and Counselor in Training (CIT) program are $479/week.
We offer a sibling discount on bus service which is $10 less per week for each sibling. Please use the calculator below, rather than the chart, for an estimate that reflects your rate with bus savings.
Read a full description of our billing, cancellation, and changes policies.
Number of weeks per family
ACH
1 Week
2-3 Weeks
4-7 Weeks
8+ Weeks
Sibling discount available
Sibling discount available
Sibling discount available
Sibling discount available
Weekly
Savings
Number of weeks per family
Credit
1 Week
2-3 Weeks
4-7 Weeks
8+ Weeks
Sibling discount available
Sibling discount available
Sibling discount available
Sibling discount available
Weekly
Savings
Please select your child's age/grade as of Fall 2022
Minors Art Camp (K - 1st)
Campers should get ready to have fun, use their imaginations and be creative and as we explore the wonders of our art room. Each day introduces our youngest artists to new art materials and mediums. We roll up our sleeves, put on our smocks and aren't afraid to get messy as we inspire our young artists to create and express themselves.
Painting: We open the canvas to creativity as we let our budding artists explore painting with brushes, spray bottles and their hands. Campers use their imagination to create beautiful paintings using conventional and nonconventional techniques in watercolor, finger paint and tempera paint.
Sculpting: There are no rules when we sculpt. Creativity flows freely as we use tinfoil, tissue paper, string and construction paper to make creations each camper is proud to take home.
Drawing: Our projects excite and inspire campers as they learn and create 2D masterpieces. The book Beautiful Oops by Barney Saltzberg serves as a guide as campers learn that there are no mistakes in art, only opportunities.
Tactile Design: Duct tape pockets, slime, bookmarks and birdhouses are a few of the projects campers work on during their week at art camp. Many different materials are used to create and strengthen our fine motor skills.
Artist Study: Based on the introduction of a different artist each week (and their works of art), campers create their own masterpieces while gaining an understanding and appreciation for the creation of others.
Rookies Art Camp (2nd - 3rd)
Campers build upon their previous knowledge of art and start focusing on color mixing, what observational drawing is, and an introduction to perspective and shading.
Color and exploring: experimenting with color and understanding how to mix secondary colors from primary colors.
Line type
Shape and seeing the difference between geometric shapes and organic shapes.
Texture and exploring how to create texture from materials and other sources.
Advancing art vocabulary
Advancing drawing skills
Use of elements of art and motor skills to discover how to fine tune drawing skills.
Masters Art Camp (4th - 5th)
Campers really dive into their creative skills and try out new projects! The Masters will work on observational drawing both inside and outside, how to shade with different mediums, use of line and patterns and be introduced to two point perspective!
Color and Learning about Complementary Colors and Becoming comfortable to mix and create colors: Primary Colors, Secondary Colors, Tertiary Colors
Line Type Using a variety of line type to create patterns and form
Shape and Advancing the use of shape to create more realistic work of art through observational drawing
Texture and Exploring texture to add a variety of detail in the work of art
Form and Understanding and working with shading create a more 3D and realistic drawing
Advancing and developing a well rounded art vocabulary
Advancing drawing skills and Developing the use of an art eye to look at the world in a more creative way that can be translated into art
Legends Art Camp (6th – 8th)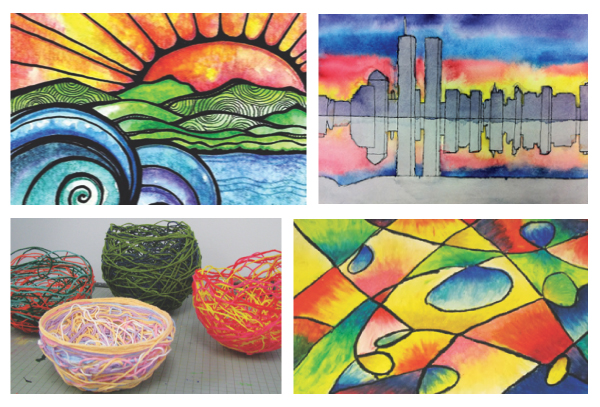 Campers learn skills at a more advanced level as they are challenged to try their hands and imaginations at fun projects to match their creative ability.
Color and The use of primary, secondary and tertiary colors and understanding their complementary colors. Understanding what a tint and a shade is in relation to color
Line Type
Shape and form and Learning how to abstract form and shape
Texture and Experimenting with materials to create multimedia works of art with texture
Value and Expanding on the use of shading to develop drawing skills that advance realism in the work of art
Advancing and developing a well rounded art vocabulary
Advancing drawing skills and Working on fine tuning observational drawing for Drawing objects and Drawing from natural resources for example outside
Introduction to perspective drawing
See what our customers think...
My daughter loved Art Camp and your swimming program." My daughter loved Art Camp and your swimming program." M.S., Wellesley
Excellent communication — beyond expectations! My son feels so safe and happy at LINX Camps." Excellent communication — beyond expectations! My son feels so safe and happy at LINX Camps." M.A., Lexington
We had an amazing experience at LINX Camps and wish we'd found you sooner. Before LINX Camps all my son did was play video games. LINX Camps changed his life and has made a huge difference in his disposition. Thank you for making such a positive impact on my son when he desperately needed it." We had an amazing experience at LINX Camps and wish we'd found you sooner. Before LINX Camps all my son did was play video games. LINX Camps changed his life and has made a huge difference in his disposition. Thank you for making such a positive impact on my son when he desperately needed it." M.B., Lexington
We are lucky that you all continue to be innovative — both of our campers are having a much needed and wonderful summer camp experience. We are so grateful!" We are lucky that you all continue to be innovative — both of our campers are having a much needed and wonderful summer camp experience. We are so grateful!" P.G., Wellesley
My kids came home everyday talking about spirit sticks, shark sportsmanship awards, relays, songs learned ... EVERY SINGLE DAY. I loved knowing they were having the best time, and felt like they were in wonderful hands. My kids loved all the camps songs they learned and the water games! I do appreci... Show full review My kids came home everyday talking about spirit sticks, shark sportsmanship awards, relays, songs learned ... EVERY SINGLE DAY. I loved knowing they were having the best time, and felt like they were in wonderful hands. My kids loved all the camps songs they learned and the water games! I do appreciate the organization at the front of camp: the seamless camp drop-offs, any communication was very easy. I felt a lot of comfort knowing I could get in contact very easily. My kids were entertained and the hours of operation were just what our family needed and wanted. My kids loved all of the food offerings, as well! We were just thrilled with our experience and can't wait to return!" MK.B., Dover
I heard a lot of chatter about the activities and wonderful counselors from my kids. LINX Camps was exactly what they needed after a year + of COVID-19 restrictions. Connecting and having outdoor fun with their peers allowed them to be kids again. And the safety protocols, communications, and proces... Show full review I heard a lot of chatter about the activities and wonderful counselors from my kids. LINX Camps was exactly what they needed after a year + of COVID-19 restrictions. Connecting and having outdoor fun with their peers allowed them to be kids again. And the safety protocols, communications, and process efficiency were impeccable from a parent's perspective." T.S., Framingham