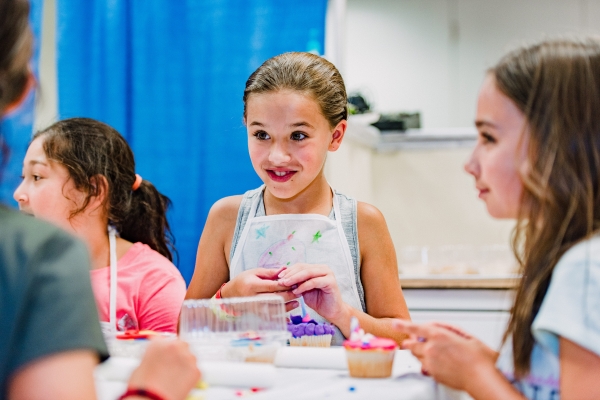 Calling all bakers, recipe inventors, and Food Network™ fans! Cupcake Battles Camp includes baking and decorating, with professional pastry chefs, who will challenge campers to be creative in the sweetest specialty camp LINX has ever cooked up! Each day campers participate in friendly, uniquely themed, decorating battles (individual and team-based). LINX Camps' guest judges are sure to be equally challenged to determine the winners!
Details
Each day of Cupcake Battles Camp includes 3 periods in the cupcake kitchen for learning, baking, practicing, decorating, and challenges. They also have periods of outdoor summer fun and lunch. In the cupcake kitchen, 2nd – 8th grade campers will:
Learn best practices in the kitchen
Experiment with the latest techniques in artistic pastry expression
Work with royal icing, fondant, and rolled fondant
Gain firsthand experience using decorating bags and tips to decorate their baked goods using techniques such as: basket weaves, bordering, piping, figure piping
Select flavor combinations
Learn design pairing and food pairing
Create display pieces like in Cupcake Wars™
Have a blast!
Swim
This camp does not include swim lessons or free swim.
Here are the ways to add swim into your camper's LINX Camps experience:
Register for a week of Freedom Camp
Register for a week of All Star Sports Camp
Add on Extended Day with Swim Lesson
Rates
2022 Rates
You won't see a better rate than you see today! As summer gets closer, each future promotion will never be quite as awesome as the one before it.
Our half-day Fun Bunch Camp and Counselor in Training (CIT) program are $479/week.
Read a full description of our billing, cancellation, and changes policies.
Please note, due to our sibling bus discount and possible rounding differences, the figures in the calculator will differ from those in the chart.
Number of weeks per family
ACH
1 Week
2-3 Weeks
4-7 Weeks
8+ Weeks
Weekly
Savings
Number of weeks per family
Credit
1 Week
2-3 Weeks
4-7 Weeks
8+ Weeks
Weekly
Savings
Register for Cupcake Battles
Available Cupcake Battles Dates
Please select your child's age/grade as of Sep 2022
See what our customers think...
We go through Scrapbook almost every day with the kids and they relive their days. I feel like I know the counselors personally! I can't say enough good things about LINX Camps. It has been life changing for my kids." We go through Scrapbook almost every day with the kids and they relive their days. I feel like I know the counselors personally! I can't say enough good things about LINX Camps. It has been life changing for my kids." V.A., Wayland