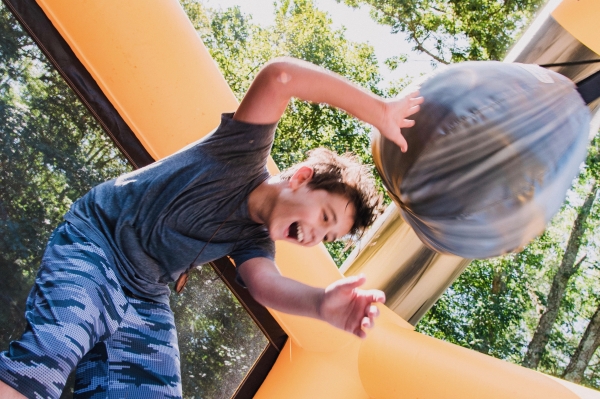 Are you the next LINX Ninja Warrior? This camp takes inspiration from the hit TV show American Ninja Warriors to test and improve camper's agility, reflexes, strength, and stamina. Efforts pay off, as campers learn and master what it takes to conquer challenges and obstacles courses!
Details
LINX Ninja Warriors tackle multiple mental and physical challenges both individually and as a team, with records to break each day! Activities include:
Cargo Net Relay
Core Training
Martial Arts Training
Jousting
The LINX Wrecking Ball
Obstacle Courses
Physical & Mental Challenges
Team & Individual Competitions
Swim
This camp does not include swim lessons or free swim.
Here are the ways to add swim into your camper's LINX Camps experience:
Rates
2023 Rates
You won't see a better rate than you see today! As summer gets closer, each future promotion will never be quite as awesome as the one before it.
Exceptions to the calculators below include Fun Bunch Camp and Counselor in Training (CIT) program, which are $509/week.
We offer a sibling discount on bus service which is $10 less per week for each sibling. Please use the calculator below, rather than the chart, for an estimate that reflects your rate with bus savings.
Read a full description of our billing, cancellation, and changes policies.
Register for Ninja Warrior
Available Ninja Warrior Dates
Please select your child's age/grade as of Fall 2023
Week of

Jul 10, 2023

(Full)
See what our customers think...
We have been signing up for a hodge-podge of camps through the years. Our experience at LINX Camps this summer has us ready to commit all of our time there! There is just so much for our daughter to do. She comes home happy and tired, and you guys just seem to get what parents need from camp as well... Show full review We have been signing up for a hodge-podge of camps through the years. Our experience at LINX Camps this summer has us ready to commit all of our time there! There is just so much for our daughter to do. She comes home happy and tired, and you guys just seem to get what parents need from camp as well. Thanks!!" J.H., Wellesley
I just wanted to let you know that we were really grateful to have camp open, and the counselors were amazing. They did a great job and made my son feel special each day. Thank you for everything, and looking forward to next summer!" I just wanted to let you know that we were really grateful to have camp open, and the counselors were amazing. They did a great job and made my son feel special each day. Thank you for everything, and looking forward to next summer!" D.M., Needham
It was very sweet to see strong traditions (that are usually built at overnight camps) at LINX Camps!" It was very sweet to see strong traditions (that are usually built at overnight camps) at LINX Camps!" K.S., Needham
My kids are so excited to tackle the obstacle courses and challenges in your Ninja Warrior Camp this summer!" My kids are so excited to tackle the obstacle courses and challenges in your Ninja Warrior Camp this summer!" L.N., Dover
I want you to know that I really appreciate how well-designed your camp is — it is so well-engineered. I have been a camp director and have never seen anything like this before!" I want you to know that I really appreciate how well-designed your camp is — it is so well-engineered. I have been a camp director and have never seen anything like this before!" S.M., Brookline
My husband and I were thrilled with LINX Camps. Our girls were so happy and got to try new activities, while improving the skills they already have. We loved the spirit every day. Our girls were fearless!" My husband and I were thrilled with LINX Camps. Our girls were so happy and got to try new activities, while improving the skills they already have. We loved the spirit every day. Our girls were fearless!" W.K., Framingham
I loved getting Scrapbook updates with pictures showing what my kids were up to. It made me feel good about the experience they were having. They came home happy and tired!" I loved getting Scrapbook updates with pictures showing what my kids were up to. It made me feel good about the experience they were having. They came home happy and tired!" S.H., Natick
My daughter thoroughly enjoyed her Ninja Warrior Camp experience this year! She had fun every day and came home talking about the events of the day. Every year she has participated in LINX Camps she has LOVED it! Thanks for providing such a stellar experience!" My daughter thoroughly enjoyed her Ninja Warrior Camp experience this year! She had fun every day and came home talking about the events of the day. Every year she has participated in LINX Camps she has LOVED it! Thanks for providing such a stellar experience!" J.D., Medfield
THANK YOU for giving my son the best week ever! 😊 I work in education, so I am home all summer. As my son has gotten older, being with friends (as opposed to home with his mom) has become more important. This is why we enrolled him in camp for the first time this summer. It was the best decision we ... Show full review THANK YOU for giving my son the best week ever! 😊 I work in education, so I am home all summer. As my son has gotten older, being with friends (as opposed to home with his mom) has become more important. This is why we enrolled him in camp for the first time this summer. It was the best decision we could have made! He hung out with friends, made new friends, and adored his counselors!!" A.D., Medfield
My girls are having a ball! I want to go to LINX Camps!!!! They are enjoying such a variety of activities. I love that the girls are experiencing things that they wouldn't normally be doing." My girls are having a ball! I want to go to LINX Camps!!!! They are enjoying such a variety of activities. I love that the girls are experiencing things that they wouldn't normally be doing." A.C., Wellesley